Expired
How do I? APA Citations & Citation Generators (downloadable pdf)
What is a Citation?
"A citation is the way you tell your readers that certain material in your work came from another source and gives your readers the information necessary to find that source again."
When do I need to cite?
Whenever you borrow words or ideas from another source, you need to acknowledge that source. The following situations almost always require a citation:
Whenever you use quotes
Whenever you paraphrase
Whenever you use an idea that someone else has already expressed
Whenever you make specific reference to the work of another
Whenever someone else's work has been critical in developing your own ideas (David, n.d.)
Why?
By giving others proper credit for their ideas, you avoid something called 'plagiarism':
"Plagiarism, the presentation of another's ideas, writing, or other work as one's own, is a serious kind of cheating. Thus, students unsure of how borrowing from another's work should be properly acknowledged have the responsibility to consult with relevant faculty regarding acknowledgement procedures appropriate to their discipline." (Royal Thimphu College, n.d.)
All programs at The Royal Thimphu College use APA – American Psychology Association – 7th ed (2020) Style Guide.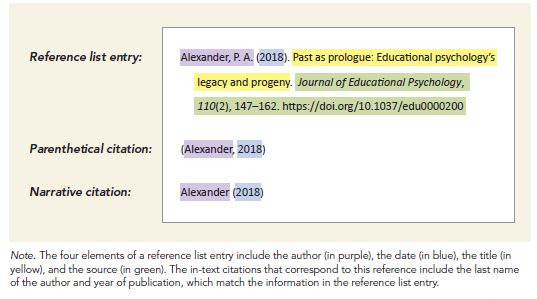 https://apastyle.apa.org/style-grammar-guidelines/citations/basic-principles/author-date
APA CITATION – THE BASICS
PURDUE OWL (Online Writing Lab) - APA Formatting and Style Guide 7th ed
Everything you need to know about APA citation styles in a short, clear blocks of information. Easy look ups for in-text citation styles, reference lists, along with how to cite those difficult resources like personal interviews, unpublished manuscripts, and the like.
APA Style Handouts and Guides – helpful short handouts covering citations, making a reference list, style and writing guidelines, etc.
APA Style Reference Guide for Journal Articles, Books, and Edited Book Chapters, APA Style 7th Edition (2-page visual handout on citation for each format)
Introduction to Citation Styles: APA 7th ed. (California State University Dominguez Hills video 3 min.)
CITATION TOOLS
Online Citation Generators are great when you just need a few citations, or are working on shorter papers and assignments. Just copy and paste the URL for an online resource, ISBN for a book, or DOI for a journal article into the generator (don't forget to choose APA!).
ZoteroBib : Generates citations and builds a bibliography in most styles, without creating an account or installing any software
MyBib : A free bibliography and citation generator that makes accurate citations for you to copy straight into your academic assignments and papers.
Citation Manager Software is used primarily for more extensive research projects and helps you to collect, organize and format all of your citations. Citation Managers generally need to be downloaded to your computer, or you need to create an account if using online software. Some good free programs are (note – the links will take you to Penn State University's software user guides and download links):
Zotero Quick Start Guide : a free stand-alone program that allows for easy capturing of citation information from web pages.
Mendeley : a free tool for both the desktop and web that integrates with Zotero and easily manages PDFs. (Documentation Support site; How To Use Mendeley Reference Manager (Complete Beginner's Guide) video 17 mins)
_________________________________________
REFERENCES:
Davis, J. (n.d.). Libguides: Citation guide: what is a citation? Retrieved November 22, 2022, from https://libguides.limestone.edu/c.php?g=545011&p=3736369
Royal Thimphu College. MyRTC—Academic regulations. (n.d.). Retrieved November 22, 2022, from https://my.rtc.bt/academics/academic-regulations